Mature tree-lined streets and large lots, split level and bungalow style homes of the 1940s, 50s, and 60s, and a budding display of newly-built houses, all within a well-connected and established community that is just a short distance away from Lake Ontario, great schools, downtown shops, restaurants, and amenities – this is the appeal of West Oakville. This Oakville neighborhood is located south of the QEW, north of Rebecca Street, and in between Dorval Drive on the east and Bronte Road on the west.
Real Estate Trends
West Oakville is undergoing rapid changes as more and more properties hit the market and young families and investors alike flock to get into this family-friendly community where property values are on the rise. We are well into the fall market and based on what I am seeing, West Oakville is still trending towards a seller's market as demand outpaces supply. Well-priced properties, whether original or renovated, do not last on the market for too long in this neighbourhood.
Property Values
Based on sales reported on the Oakville, Milton & District Real Estate Board, the median sale price of a home in West Oakville increased by +17.19% in 2020 from the 2019 median sale price. While some volatility in sale price averages is normal to see from year to year in areas experiencing the type of suburban renewal that we see in West Oakville, this is quite a notable increase in property values compared to previous years.
If you're a homeowner in West Oakville who is thinking of making a move in the next few years, now is the time while the market is hot! If you're interested in buying in this neighbourhood, rest assured that your purchase will be protected by the attractive location, large lots sizes and the fact that growing demand is bringing home values up.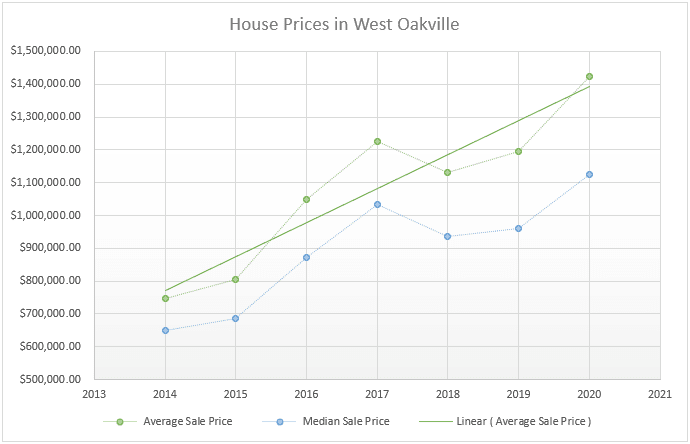 Complimentary Market Evaluation
Want to know what your property is worth? Contact us for a complimentary market evaluation.
RINA DIRISIO, SALES REPRESENTATIVE
CALL/TEXT: 416-721-3680
"West Oakville is undergoing rapid changes as more and more properties hit the market and young families and investors alike flock to get into this family-friendly community where property values are on the rise."